Gambling tempo has been very low and slow lately, due to a bunch of eldercare obligations that had Pixie spending too much time in hospitals until she stressed herself into an ugly little case of pneumonia. She's better now, but respiratory infections and smoky casinos do not mix! So we've been staying close to home.
Still, today she was feeling better and going a bit stir crazy, so I offered to take her out for a drive. And when she saw the sign for the I-40 Seminole casino, she was all "Their new space has high ceilings, it's not so smokey, it's not a horrid pit of foul smoke and no air like the Wewoka Trading Post…" And of course today is the Wednesday $10-for-$20 promotion (what we not-so-fondly call "half-assed match play". Yes, we grumble, but advantage is advantage, and ya gotta take it where you find it.) So, in we went.
I cannot complain. I played my thirty dollars worth of wagers (twenty of mine and ten of theirs) at forty cents a spin on their sole Zeus II machine — a 40-line "Red Hot Respin" machine that just wasn't talking to me today. Down twenty bucks, I wasn't quite ready to quit, so I moved to an older "Zeus" machine nearby (a 30-line model with no "Red Hot Respin" bonus feature).
Fifth spin or so, I got this: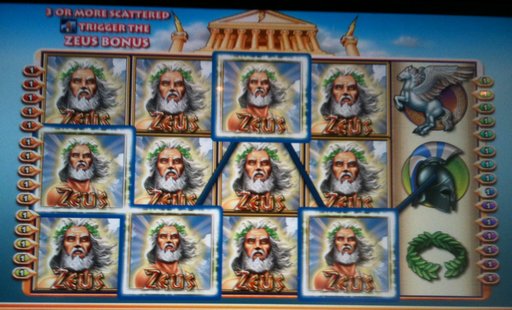 Happy days — that's a $60 screen right there. My work here is done.
Went and found Pixie, she was talking to the Fairy Blossom machine but not done with it yet. So I cashed my ticket and took a couple of bucks of my winnings into the convenience store for candy. On the way I noticed that (yay!) my beloved Penny Poker machines had finally been installed in the breezeway area leading to the old casino space that's currently closed. I'll look forward to playing them, next visit.
When I got back to Pixie, she was just chortling at three treasure chests (the bonus symbol for Fairy Blossom) that had just landed. She was playing at 80 cents a spin, so I stayed to watch; those bonuses can be substantial. And sure enough, she ended up with a total of 30 free spins, two of which hit very big indeed; her final total from the bonus exceeded $150.
As we do, we took our winnings and ran home, chortling all the way. It doesn't take a lot to make us happy…